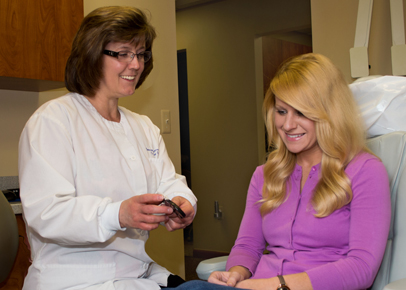 Worry Free Dentistry
One of the most often sited reasons for not receiving proper dental care is a fear of the dentist's office. Nobody likes discomfort, and our office understands that some patients are more sensitive than others. We are equipped with some of the latest technologies to ensure our patients receive the most stress free treatment possible. Among the "worry free" methods we can use are:
Topical Anesthetics - A medication applied with a swab to numb an area prior to a procedure.
Nitrous oxide - Sometimes referred to as "laughing gas", this gas can be inhaled during procedures to bring about a calming pain free state.
Oral sedation - This method interacts with the central nervous system to provide a pain free experience.
Lasers (hard and soft tissue) - These wonders allow for a quicker and smoother procedure to be performed, with less trauma to the area, far less pain, and much quicker recovery times, all without the once familiar noise of a dental drill. Use of anesthesia can be reduced, and often eliminated, with this new technology. .
The Wand - This small computer controlled anesthetic delivery system can numb a single tooth, with no numbing of the tongue, cheek, or lip.
In operatory cable TV - Each of our rooms is equipped with a monitor to allow our guests to watch a favorite show during their procedure. Many appreciate the chance to relax and catch up the latest episodes during the procedure, and often we have patients amazed that their dental work is completed before their program is over. (Occasionally some have even been known to stay a few extra minutes, at least until a commercial break).
Of course every patient and procedure is unique. Please let us know of any concerns you may have, and we can discuss the optimal way to use these technologies to reduce any apprehension you may have. Click here to learn more about the services and technologies we offer at our office.