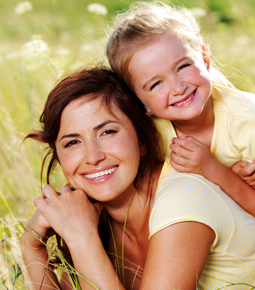 Services and Technologies
Crestview Dental has provided personalized dental care to thousands of families. Our patients come from near and far to experience the warm, individualized care we provide. We pride ourselves in utilizing the most modern equipment and methods available.
In order to provide nothing but the best to our patients, our office uses state-of-the-art technologies in all our procedures. These new technologies allow us to detect dental concerns at early stages, treat your dental issues with precision, and provide stunning and customized restorations. Our premium dental software system maximizes your time and our office efficiency. When you visit our office you can be confident that you are receiving the finest and most advanced in dental care.
Click the Services below for more information on each subject.
WORRY FREE DENTISTRY
One of the most often sited reasons for not receiving proper dental care is a fear of the dentist's office. Nobody likes discomfort, and our office understands that some patients are more sensitive than others. We are equipped with some of the latest technologies to ensure our patients receive the most stress free treatment possible. Among the "worry free" methods we can use are:
• Topical anesthetics: a medication applied with a swab to numb an area prior to a procedure.
• Nitrous oxide: sometimes referred to as "laughing gas", this gas can be inhaled during procedures to bring about a calming pain free state.
• Oral sedation: this method interacts with the central nervous system to provide a pain free experience.
• Lasers (hard and soft tissue): These wonders allow for a quicker and smoother procedure to be performed, with less trauma to the area, far less pain, and much quicker recovery times, all without the once familiar noise of a dental drill. Use of anesthesia can be reduced, and often eliminated, with this new technology.
• The Wand: this small computer controlled anesthetic delivery system can numb a single tooth, with no numbing of the tongue, cheek, or lip.
• In operatory cable TV: Each of our rooms is equipped with a monitor to allow our guests to watch a favorite show during their procedure. Many appreciate the chance to relax and catch up the latest episodes during the procedure, and often we have patients amazed that their dental work is completed before their program is over. (Occasionally some have even been known to stay a few extra minutes, at least until a commercial break).
Of course every patient and procedure is unique. Please let us know of any concerns you may have, and we can discuss the optimal way to use these technologies to reduce any apprehension you may have.
BONDING
Bonding is a conservative way to repair slightly chipped, discolored, or crooked teeth. During dental bonding, a white resin material is applied to your tooth and a special light is used to harden the material. This material "bonds" with your tooth providing a permanent restoration. The bonding material comes in a variety of shades to allow the dentist to closely match the appearance of your natural teeth.
Bonding can also be used for fillings instead of silver amalgams. Many patients prefer bonded fillings because the white color is much less noticeable than silver amalgam fillings. Bonding can be used on front and back teeth, depending on the extent of tooth decay.
Dental bonding can often be used to:
  • Repair decayed teeth
  • Change the shape of teeth
  • Repair chipped or cracked teeth
  • Replace amalgam (silver) fillings to provide a cosmetic enhancement
  • Protect exposed root surfaces in cases where gums have receded
Bonding is less expensive than other cosmetic treatments and usually can be completed in one visit to our office. However, bonding can stain and is easier to break than other cosmetic treatments such as porcelain veneers. The bonding can generally be easily patched or repaired in one visit.
For more information on bonding, or to set up a consultation time to discuss options that may be right for you, contact our office.
ORAL CANCER SCREENING (VELscope)
Oral cancer screening allows for the detection of cancer, often before the patient has any visible symptoms. This can help alert the patient to cancer at a very early stage, which enhances the ability to effectively treat the condition. Our office makes use of several technologies, including the VELscope system to perform this early screening. This allows painless screening during routine dental exams. If suspicious areas are noted, we can follow up with further tests in conjunction with local laboratories and specialists.
DENTAL CLEANING
During a dental cleaning, plaque and bacteria are removed to aid in the prevention of tooth decay, gingivitis, and periodontal disease. A cleaning is performed by either by a dentist or dental hygienist and usually will take between 30 to 45 minutes. Cleanings should be performed at regular intervals, typically every six months, to prevent excessive plaque buildup.
In cases were excessive plaque and/or tartar build up is present, a process called scaling is used to fully clean the teeth and sub gingival root surfaces. When excessive plague and calculus is left untreated, it can lead to a condition known as periodontal disease. This condition leads to inflammation of the gums and the break down around the tooth's surrounding bone structure. This can then cause recession of the gums, mobility (shifting of the teeth), and eventually loss of the teeth due to advanced bone-loss.
Dental hygienists have traditionally preformed scaling by hand. However, our office makes use of modern Ultrasonic scalers, which allow dental cleanings to be performed more efficiently, flushing out the plaque and calculus from the pockets to improve overall tissue health. These new scalers help minimize patient discomfort during the cleaning appointment.
Medical research has shown a link between bacterial levels in patient's mouths and their overall health. Dental cleanings should be a regular part of your complete health program, especially patients with preexisting heart conditions and diabetes.
DENTURES
A denture is a removable replacement for missing teeth and surrounding tissues. There are two types of dentures available, partial and complete dentures. Partial dentures are used when some natural teeth remain, while complete dentures are used to completely replace all of the teeth. Dentures are made to resemble your natural teeth, so there should be no noticeable change to your appearance. In fact, dentures may even improve your smile!
Complete Dentures - This restoration method is used to restore your smile and mouth function if all your teeth have been lost. The dentures are custom created to resemble natural teeth and are positioned into a patient's mouth to take the place of missing natural teeth. Complete dentures are removable and may require adjustments in order to create a proper fit.
Partial Dentures - A removable partial denture is used when one or more natural teeth still remain in the upper or lower jaw. It consists of replacement teeth attached to a gum-colored acrylic base. A fixed partial denture acts the same as a complete removable denture, but it is cemented in place using the adjacent teeth for support. A partial denture can fill the space created by missing teeth, as well as create a support for remaining teeth to prevent shifting.
Dentures can help restore chewing ability, aesthetics by providing lip and cheek support, and improve speech. Daily cleaning is recommended for dentures. Plague and tartar can build up on false teeth, just as on natural teeth.
TOOTH EXTRACTIONS
Good oral hygiene should always be practiced, since the loss of a single tooth can have major impact upon your oral health and appearance. Although dentists will use every measure to prevent tooth loss, there are still some occasions when a tooth may need to be extracted. A tooth may need to be extracted if the following occurs:
  • Severe decay
  • Advanced periodontal disease
  • Infection or abscess
  • Orthodontic correction
  • Malpositioned teeth
  • Fractured teeth or roots
  • Impacted teeth
After careful examination and treatment, the dentist may advise to have a tooth extracted. Before a tooth is removed, the dentist will take an x-ray in order to understand the shape and position of the tooth and surrounding bone. Based on the degree of difficulty, we may refer you to a specialist called an oral surgeon.
A certain amount of pain and discomfort is to be expected following an extraction. This may be minimized with medication and ice packs as prescribed by your dentist. After a routine extraction, discomfort should lessen within three days to two weeks. If you have prolonged or severe pain, or any concerns, call our office immediately.
FILLINGS
A filling is a way to restore a tooth damaged by decay back to its normal function and shape. If you have a tooth that requires a filling, the dentist will first remove the decayed tooth structure, clean the affected area, and then fill the cleaned out cavity with a filling material. A filling also helps prevent further decay by closing off any cracks or spaces where bacteria can enter.
There are a variety of filling materials available including gold, silver, resins, and porcelain. The dentist will work with you to determine which material is best for you, depending on the extent of repair, where in your mouth the filling is needed and cost. Each of the filling materials is briefly explained below:
Gold fillings are custom made in a laboratory and then cemented into place. While gold fillings are often the most expensive choice, many consider it the best filling material. Gold inlays are well-tolerated by gum tissues and may last more than 20 years.
Amalgam (silver) fillings are a less expensive choice and are more tolerant to wear. However, due to their dark color they are more noticeable than porcelain or composite restorations and are not recommended for fillings in very visible areas such as front teeth.
Composite (white) resins are custom made to the exact color of your natural teeth, creating a more natural appearance. While white fillings may be less noticeable than other materials, they usually only last between 3 and 10 years. They may not be ideal for large fillings as they may chip or wear over time. They can also become stained from coffee, tea or tobacco.
Porcelain fillings are called inlays or onlays that are custom created and then bonded to the tooth. They can be matched to the color of the tooth, resist staining, and are about the same cost as gold fillings. A porcelain restoration generally covers most of the tooth, making the filling strong and nearly undetectable. This restoration provides the best cosmetic solution for most patients.
PERIODONTAL (GUM) TREATMENT
The gums, ligaments, and bone around the teeth form the foundation for one's teeth. All structures are also referred to as the periodontium. When the periodontium is not healthy, it jeopardizes the teeth just as a bad foundation would threaten the stability of a house. Signs of unhealthy periodontium include: gums that are red and bleed easily, persistent bad breath, gums that are pulled away from the tooth, loose teeth, and changes in the position or bite of the teeth. Any of these may be a sign of a problem. With proper gum treatments, however, it may be possible to return gum tissue to a healthy state. If you're having a problem, come in and see us so we may treat it right away. The treatment usually involves a deep cleaning or root planing done under a local anesthetic, along with local antibiotic agents. If the gum disease gets too severe it may need to be treated through surgery or extraction. This is why it is important to have it treated at the first sign of a problem.
IMPLANT RESTORATION
A dental implant is an ideal tooth restoration for people who are missing one or more teeth as a result of injury, periodontal disease, or any other reason. A dental implant is a titanium screw that is surgically positioned into the jaw. Once in place and bone surrounding the implant has had time to heal, a replacement restoration is attached. While implants are typically more expensive than other methods of tooth replacement, they provide important benefits. Implants are stronger than natural teeth and are a permanent solution for missing teeth. They are also a more favorable approach than bridgework since they do not depend on neighboring teeth for support. Two or more implants can be used in combination for implant supported bridges or dentures. Implants appear very natural and allow you to regain the smile you once had.
To receive implants, you need to have healthy gums and adequate bone to support the implant. You must also be committed to excellent oral hygiene and regular dental visits as these are critical to the long-term success of dental implants. If you have more questions about implants, please contact our office.
NIGHTGUARDS / MOUTHGUARDS
Custom designed mouthguards and nightguards are made of flexible plastic and molded to fit the shape of your teeth. Mouthguards are recommended to protect the jaw and teeth during physical activity and sports such as boxing, football, basketball, hockey, karate, or other activities where your mouth may get hit. In addition, these guards protect the soft tissues of your tongue, lips and cheek lining. Nightguards are recommended for patients who clench or grind their teeth at night, as a way to protect their teeth and joints. Patients who grind or clench may experience achiness or pain in the neck, facial muscles, and/or TMJ joints.
If you have decided a guard is right for you, the dentist will take an impression of your teeth which will then be sent to a lab to make a custom fit guard for you. In most cases you can choose from a variety of colors and styles for your guard. On average, guards last between 3 and 10 years.
ORAL HYGIENE CARE
Maintaining good oral hygiene is one of the most important things you can do for your teeth, gums, and overall health. Healthy teeth not only enable you to look and feel good, they make it possible to eat and speak properly. Good oral health is important to your overall well-being.
Daily preventive care, including proper brushing and flossing, will help stop problems before they develop. In between regular visits to the dentist, there are simple steps that each of us can take to greatly decrease the risk of developing tooth decay, gum disease and other dental problems. These include:
  • Brush thoroughly at least twice a day and floss daily
  • Eat a balanced diet and limit snacks between meals
  • Use dental products that contain fluoride, including toothpaste
  • Rinse with a fluoride mouth rinse if your dentist advises you to
  • Make sure that your children under 12 drink fluoridated water or take a fluoride supplement if they live in a nonfluoridated area
SEALANTS
Sealants are used to fill in narrow grooves in the chewing surface of a tooth that cannot be adequately cleaned by brushing. In some cases, the tooth structure has fine grooves or pits which accumulate bacteria and food particles, not because the person doesn't brush, but because these grooves can be too narrow to allow even one bristle into them. These small areas can develop cavities over time. To prevent these cavities from forming, the dentist or hygienist will apply a coating that seals the grooves and pits, making it possible to brush off all the plaque and keep your teeth healthy.
Sealants are particularly effective in protecting against tooth decay and cavities in molars, the large teeth in the back of the mouth. While sealants provide benefits at any time in a tooth's life, it is best if they are applied soon after the molars have emerged, before any decay has had a chance to start. In children, the first adult molars typically appear between the ages of 5 and 7, with the second set appearing between the ages of 11 and 14.
VENEERS
Now it is easier than ever to have that gorgeous smile you've always wanted. Veneers are a dental procedure in which a thin covering is placed over the visible area of a tooth, to either improve the appearance of the tooth or to protect damaged tooth structure. Veneers provide the opportunity to change the color, shape, or alignment of your teeth.
Veneers are routinely used to correct teeth that are:
  • Discolored from either staining or past dental procedures
  • Chipped or broken
  • Misaligned
  • Gapped to adjacent teeth, or
  • Irregularly shaped.
The advantage of veneers versus crowns is that much less tooth structure is removed and the procedure is generally more comfortable. The transformations can make a dramatic difference in the way you look and feel.
WHITENING INCLUDING ZOOM!
Tooth whitening is a popular procedure to make teeth whiter and brighter, and therefore more attractive. Bleaching can be used to whiten stained and discolored teeth, or simply to enhance a dull smile. Tooth whitening is a safe and easy procedure ideal for most patients. Our office offers two methods of whitening: in-office whitening and tray whitening.
In-office whitening is an ideal procedure for anyone wanting immediate results. Because the entire procedure takes place in our office in about an hour, it is the perfect choice for busy individuals. In this process, a protective gel is applied to your gums to protect the soft tissue. A special light-activated gel is then applied to your teeth and a special light or laser is used to enhance the action of the agent. Finally, we take impressions of your teeth to create custom trays for at home touch-up, and give you instructions for keeping your smile bright. The result is dramatically whiter teeth that will last for years.
Tray whitening is a less expensive whitening treatment you can use while in the comfort of your own home to gradually whiten teeth. We will first take an impression of your teeth to create a customized clear tray that you will wear to whiten your teeth. Within a few days your trays will be ready to be picked up and we will show you how to apply the special bleaching material to the trays. The whitening gel trays should be worn 30-60 minutes per treatment. At the end of this process, you will see maximum whitening results that are nothing short of dazzling. Occasional treatment can be used at your convenience to maintain your new smile.
Click the Technologies below for more information on each subject.
X-RAYS AND DIGITAL X-RAYS
X-rays are a focused beam of x-ray particles passed through bone which produce an image on special film, showing the structure through which it passed. This provides the familiar black and white images doctors and dentists use to diagnose problems and disease. Without an x-ray of the whole tooth and supporting bone and gum tissues, there would be no way to detect infection or pathology that requires attention.
In our office we use digital radiography which allows us to take x-rays using up to 90% less radiation than conventional film x-rays. Using this technology, we are able to take an x-ray of your mouth by using a small sensor which records the image of your teeth and sends it to a computer. The result is a highly detailed image of your mouth that can easily be enhanced to better diagnose dental concerns and determine the very best treatment for each case.
AIR ABRASION
Air abrasion is a drill-less and more gentle approach to remove decay from teeth. An air abrasion unit is a small instrument that blasts a fine stream of air and particles onto the teeth to spray away stains and decay. The small particles are made of silica, aluminum oxide or baking soda and aid in cleaning the tooth surface. Air abrasion allows for decay to quickly be removed while conserving healthy tooth structure. The particles and decay are suctioned out of the mouth.
Air abrasion is gentle because it generates no heat, sound, pressure or vibration. In addition, it reduces the need for anesthesia, making it an ideal choice for children and those who experience dental anxiety.
AQUA ABRASION
Aqua abrasion is a new cutting and polishing systems that works in the same fashion as air abrasion. In addition to removing decay and preparing restorations, it can be used to effectively clean and polish the teeth through a fine stream of water that is sprayed onto the tooth surface. The aquabrasion system can replace the drill in many dental procedures and it quickly removes decay while conserving healthy tooth structure. Its gentle nature can eliminate the need for local anesthesia in many procedures.
AUTOMATED APPOINTMENT REMINDERS
Keeping track of appointments may not be your favorite activity, and missing appointments is never good. That's why we offer a number of ways to help track your next visit. Services we provide include:
• Long term scheduling: Let us schedule your next appointment during this visit, avoiding the need for last minute scheduling and allowing us to help find that perfect time for your schedule. Whether you prefer late in the day on Tuesdays, or need an early morning visit, scheduling early helps us to find a time that is right for you.
• Automatic email reminders: Do you prefer to have reminders via email? Just let us know and our system will notify you in advance of upcoming visits.
• Text message notification: If you prefer a text message reminder, our system can reach out to your phone to automatically remind you of your coming appointment.
• Personal phone reminders: You will receive a personal call approximately two days before an appointment as a reminder, and to allow you to inform us of any new issues or developments.
Of course we all know that plans can change. If you ever need to move an appointment, simply call our office and our staff will work with you. We do ask that you provide as much notice as possible, a minimum of 24 hours, as a courtesy to our staff and other patients.
DIAGNOdent
Providing the absolute best service to our patients is of the highest importance to our office. To aid in achieving this goal, we use a new high-tech device called the DIAGNOdent. This small tool is a portable laser that allows us to detect cavities on the chewing surface of the back teeth that would have otherwise gone undetected by previous methods. Diagnosing cavities in the back of the mouth using traditional methods is difficult; studies even show that 50% of cavities are left undetected in these areas. However, the new DIAGNOdent enables us to locate and treat these cavities, putting a stop to further decay. The laser is easy to use, harmless, and will alert us with an audible signal if it detects a cavity. It will even calculate the approximate size of the cavity so we can better plan treatment. By using this device, you can rest assured that cavities will be accurately detected and treated in their infancy.
LASER DENTISTRY
Laser dentistry is the latest advancement in dental technology, treating a wide range of dental and cosmetic problems. Lasers can be used for decay removal, cavity preparations, root canals, teeth whitening, gum recontering and bone surgical procedures. The lasers we use at our practice are an alternative to the common hand-held scalpel, drills, or other tools. These lasers direct an invisible energy beam onto problem areas and allow us to efficiently treat decayed teeth, enamel, and gums. The benefit of laser dentistry is the minimization of pain often associated with dental procedures, meaning more comfort to our patients. Clinical studies show that approximately 96% of all patients require no anesthesia when lasers are being used during dental treatments. Dental lasers have been approved by the Food and Drug Administration and are safe for both adults and children.
Hard /Soft Tissue Dental Lasers
Hard tissue lasers are used to remove bacteria, decay, bone, and gingival tissue precisely while leaving surrounding areas unaffected. This conservative approach allows you to keep a greater amount of healthy tooth structure. Lasers mean fewer shots (anesthesia) and drilling when restoring a tooth with decay. For gum procedures, soft tissue lasers reduces bleeding, swelling, and the need for pain medications. Because lasers allow for less invasive procedures, we are often able to treat more areas in a single visit, with less pain, and quicker recovery times. Providing comfort and the latest technology to our patients is a top priority.
INTRAORAL CAMERA
We use small cameras about the size of a pen, called intraoral cameras, to help clearly see the condition of your teeth and gums. With this advanced technology we can zoom in on small diseased areas, cracks, chips and worn metal fillings with extreme precision. The full-color images taken with the intraoral camera are sent to a computer screen so we can clearly see and diagnose dental problems much earlier than with traditional dental technology. Because images are displayed on our screens, patients will also be able to see areas being worked on and are able to gain a better understanding of dental procedures being performed.
LASER DENTISTRY
Laser dentistry is the latest advancement in dental technology, treating a wide range of dental and cosmetic problems from cavities to gum disease to teeth whitening. The lasers we use in laser dentistry at our practice are an alternative to the common hand-held scalpel, drills, or other tools. These lasers direct an invisible energy beam onto problem areas and allow us to efficiently treat decayed teeth, enamel, and gums. The benefit of laser dentistry is that they minimize the pain most often associated with dental procedures, meaning more comfort to our patients. Clinical studies show that approximately 96% of all patients require no anesthesia when lasers are being used during dental treatments. Dental lasers have been approved by the Food and Drug Administration and are safe for both adults and children.
Soft Tissue Laser
Soft tissue lasers are used to safely remove soft tissue, such as excess gum tissue. The soft tissue laser can also be employed to destroy bacteria in gum pockets, preventing infection and allowing the tissue to return to a healthy state. The soft tissue laser enables the dentist to treat our patients with extreme accuracy and eliminates the need for most stitches.
TELESCOPIC LOUPES
The dentist performs most dental procedures while wearing a pair of funny looking glasses called surgical telescopes. These powerful glasses have magnifiers on them, allowing the dentist to see fine details that would go unnoticed to the naked eye.
PANORAMIC DIGITAL XRAYS
A panoramic x-ray provides a full view of the upper and lower jaw, teeth, joints and sinuses. While traditional dental x-rays capture images of several teeth at a time, the Panoramic X-ray equipment rotates around the stationary patient to capture the complete full mouth in a single X-ray. Dentists and oral surgeons are then able to see the relationship between the entire jaw and every tooth in single image.
Our office utilizes a digital panoramic x-ray, so once the image is captured it can be reviewed and enhanced on a computer screen, all at a lower power level for our patients safety. Additionally, we can provide copies of the x-ray to specialists and orthodontists for quick consults and consistent care. Ask our staff about the benefits of a digital panoramic x-ray, or just to see a truly amazing piece of technology at work in our office.